Written by: Megan Hammond, President USANEO Chapter
Lots of updates with our local Chapter!! The United Spinal Association Northeast Ohio Chapter has been hard at work restarting its Community Event Ticket Program and bringing in-person social events for the first time since 2020. We continue to hold virtual monthly meetings on the 3rd Monday of each month, covering various topics related to improving the quality of life for those living with spinal cord injuries and related disorders. You can find all the meeting dates and past meeting replays on our website at www.usaneo.org/calendar.
In addition to these monthly meetings, we held our first annual (or maybe bi-annual) Handcycle and Picnic in the Park Event at South Mastick Picnic Area in Fairview Park. We brought our 7 handcycles for people to try out, grilled hamburgers and hot dogs, and played yard games like Cornhole, Giant Jenga, and Frisbee. Would you like to see us bring this event more than one time a year? Send us an email at unitedspinalneo@gmail.com or message us on Facebook at www.facebook.com/unitedspinalneo.
Our Community Event Ticket Program kicked off this year with The Lord of the Rings In Concert, presented by the Cleveland Orchestra at Blossom Music Center at the end of July and what a show that was! If you are unfamiliar, an In Concert showing of the movie means that the orchestra (and choir) play all the music live, while the movie is shown on big projectors. It is quite an experience! And, we just experienced Harry Potter and the Chamber of Secrets In Concert on Saturday, August 20, 2022. Look for shows next summer!
Additionally, we have tickets to the Cleveland Guardians Game v Seattle Mariners on Saturday, September 3, 2022, with the first pitch at 7:10 pm. Don't leave early, though, there are Fireworks after the game! Again, tickets are free and available on a first request, first served basis. Tickets can be requested here: https://forms.gle/iohTX4jRwyPf9kq56 or through our website at www.usaneo.org/calendar.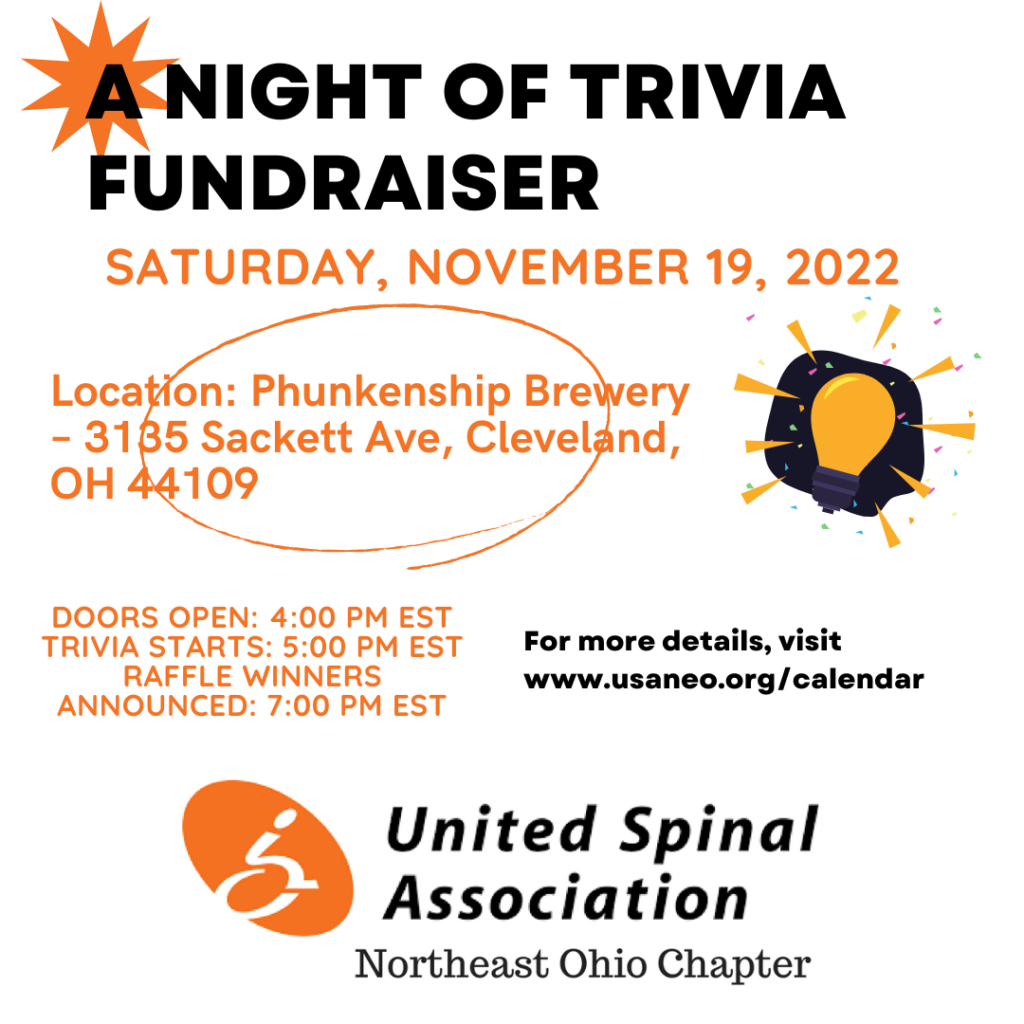 And finally, we will be hosting our first ever IN-PERSON fundraising event on November 19, 2022. Our Night of Trivia Fundraiser is coming to Phunkenship Brewery, located at 3135 Sackett Ave, Cleveland, OH 44109, from 4-7 pm EST. Tickets will go on sale soon, so mark your calendars and check our Calendar page to purchase your tickets. Trivia will be played in Teams, and we will also have a raffle with many fantastic prizes.
We are excited to offer these events and are working on improving our Connect-In Peer Mentoring Program. If you want to become a peer mentor, fill out this application: https://forms.gle/VJNvk75mbsXZfEgR8 or email us more information. If you would like to be matched with a Mentor, you can request one here: https://forms.gle/QjR8RL5d9VSEbDKcA.
We still loan out one of our 7 handcycles to members for 30 days at a time, and 6 handcycles are available at the time of publication. Handcycles can be picked up at our storage unit, located in Parma, Ohio, after scheduling a time with a member of the Board of Directors. If you are interested in more information or to request a handcycle, please email us at unitedspinalneo@gmail.com.
Lastly, we have received wonderful donations from the community, including a standing frame, walkers, wheelchairs, a transfer board, and extra push rims. These items are listed on our website and are available FREE to a home in need. Directions on how to request the items can be found on our website: https://usaneo.org/donated-items/.
Further, we have 2 kayaks that, after registration is updated, can be borrowed for 30 days at a time. We have the paddles and a life jacket too!
We are open to any feedback on how to grow our chapter and better serve this community. If you are in need of any resources, a peer to connect with, or have any general questions, please don't hesitate to contact us at unitedspinalneo@gmail.com .And, please send us any topic you would like to see at a monthly meeting! We look forward to seeing you virtually and hopefully in person in 2022!