Did you know there are over 125 miles of walking trails in the Cuyahoga Valley National Park ALONE? That doesn't include the Cleveland Metroparks, the Lorain County Metroparks, or other trails in Northeast Ohio. You don't have to go far in order to get to a trail. But, if you are a wheelchair user, that could seem overwhelming or impossible to navigate. Luckily, if you are a manual wheelchair user, there is one device that could help you get outside and explore these trails.
That product is the Freewheel Wheelchair Attachment. A Freewheel Wheelchair Attachment transforms your chair, letting you tackle tough terrain. It turns your 4-wheeled wheelchair into a 3-wheeled wheelchair allowing easier navigation through terrains such as grass, gravel, and even sand. We asked a few members of the community to share their experiences with the Freewheel and where they have traveled.
This is what we heard: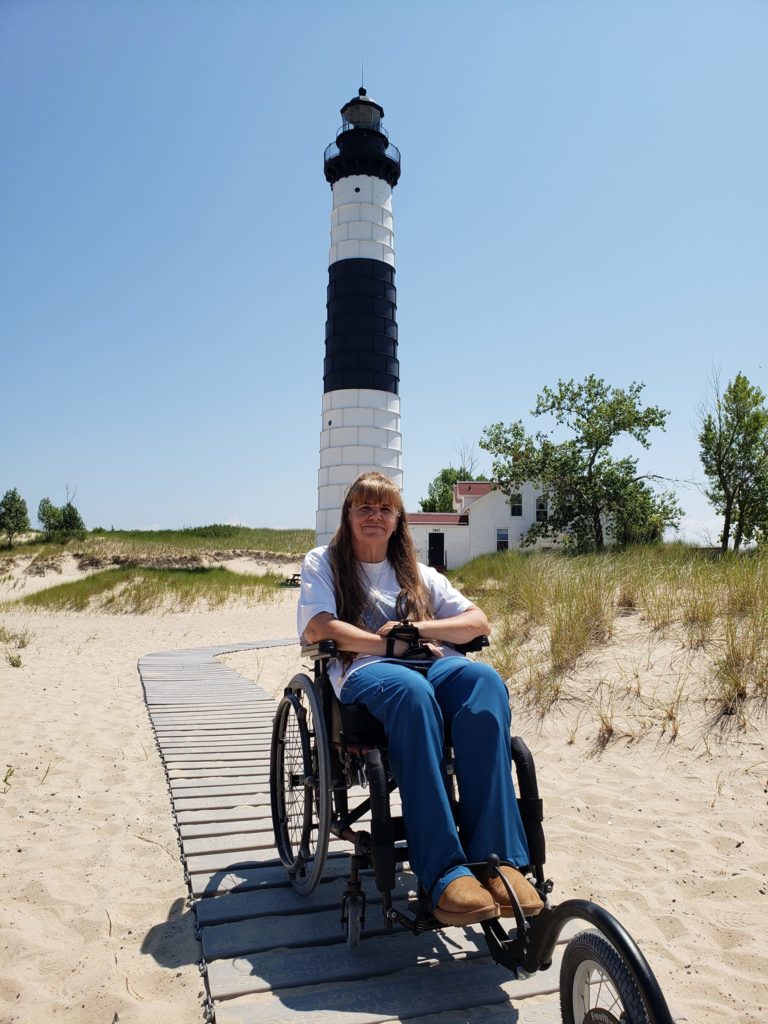 Kim Anderson (tetraplegia)  – I bought my Freewheel a few years ago, and the freedom it has provided me is worth the investment! Recently my husband and I went on vacation in Michigan, just a 6-hour drive from Cleveland, and I took my Freewheel. I'm glad I did because I would have missed seeing this amazing lighthouse in the photo if I hadn't. The only way to get to the Big Sable Point lighthouse is to go down a 2-mile sand/gravel hiking path. With the Freewheel (and a little help from my husband), I was able to get to the remote lighthouse, have a picnic, see the beautiful blue waters of Lake Michigan, and see the sandy dunes.
Without the Freewheel, I would never have been able to access that environment, and I would have missed out on creating a wonderful memory.
Will Baker (tetraplegia) – I use the Freewheel mostly in my neighborhood and around my yard with my family.  I like using the Freewheel when my kids are out biking, so I don't have to worry about cracks, (small) potholes, and gravel.  It allows me to go into the grass without having to worry about hitting dips and possibly falling out of my chair.  Out of my home, I used the Freewheel at Edgewater Park to help me navigate the sand.  This was still really hard, and I would not recommend using it with the sand.  Using the Freewheel around my home has helped me do more things with my family and not expend all my energy.  Game changer!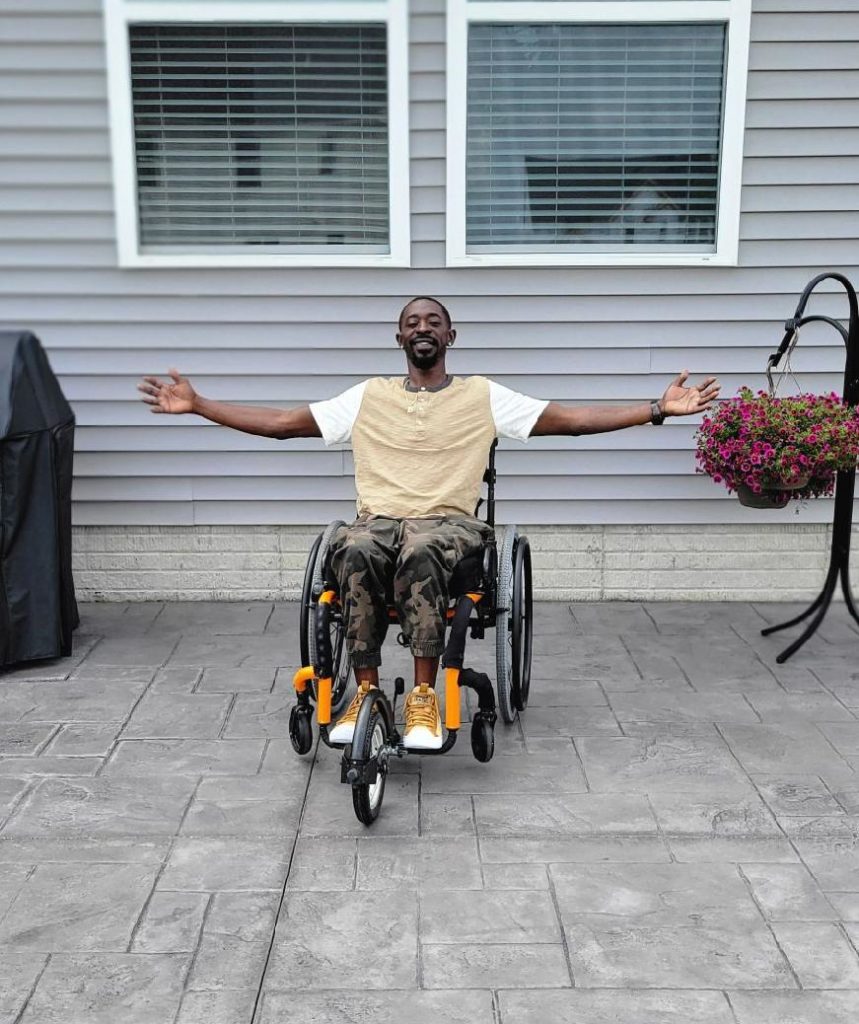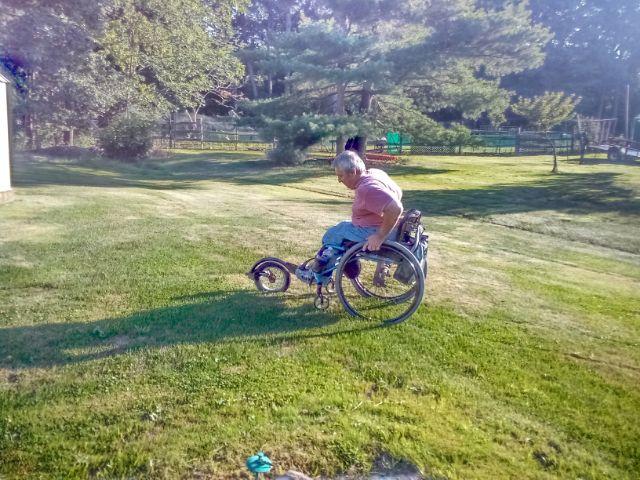 Don Johnston (paraplegia) – The Freewheel is a wheelchair device that has opened up opportunities for me that enhance my exercise options.  With the easy footrest connection, I'm capable of pushing my wheelchair through grassy areas and rough terrain. With this attachment, I am able to focus on staying in shape, working on my endurance, and increasing my breathing capacity.  I have been able to use my strength and push my chair in areas where I don't normally travel.  Using the Freewheel so far has been a blast!
Megan Hammond (paraplegia) – Watching content creators on Instagram, my desire to own a FreeWheel grew slowly, and now I am obsessed. My fiance and I started exploring trails in Northeast Ohio and would often pass an "off-road" trail, thinking, "That would be cool to explore," knowing in my regular wheelchair, it would be very difficult to do. Then, after receiving the FreeWheel as a Christmas present, my thinking turned to, "What else can we explore." I love getting out in nature and learning that Northeast Ohio has some amazing views!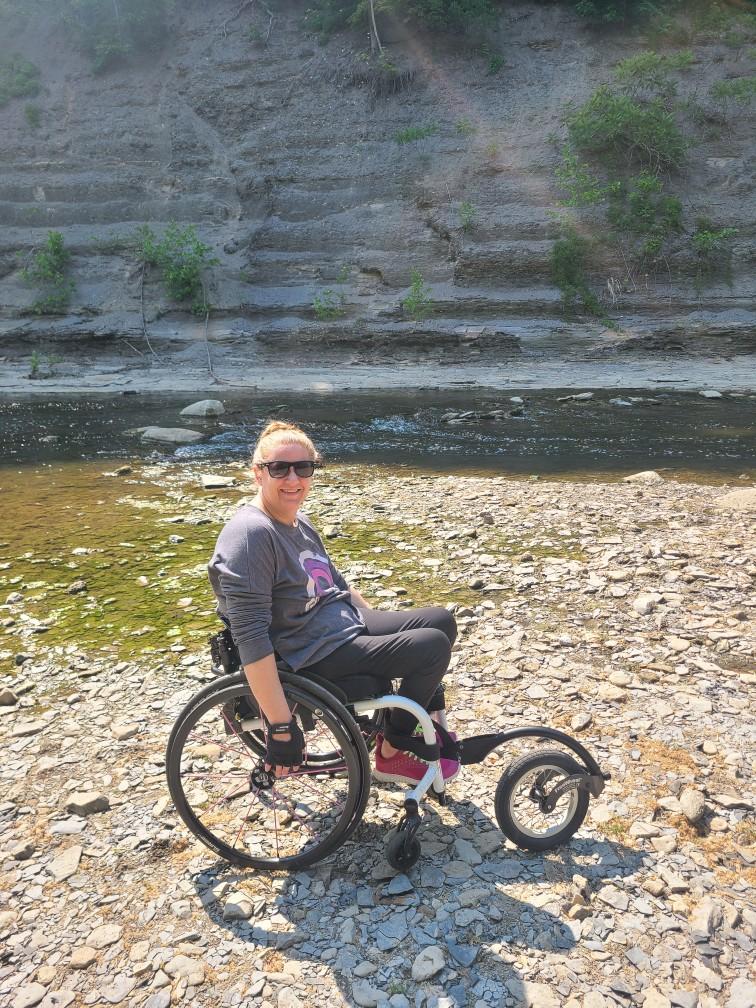 The FreeWheel has opened up new adventures for me, and I learned that I loved hiking.  Exploring any trail in the Cleveland or Lorain County Metroparks (so far) with my FreeWheel attachment has already sent me to waterfalls, a dried-up river bed, and "valley" views I wouldn't normally get to see. My curiosity for adventure is creeping back in, and I have the FreeWheel to thank for that.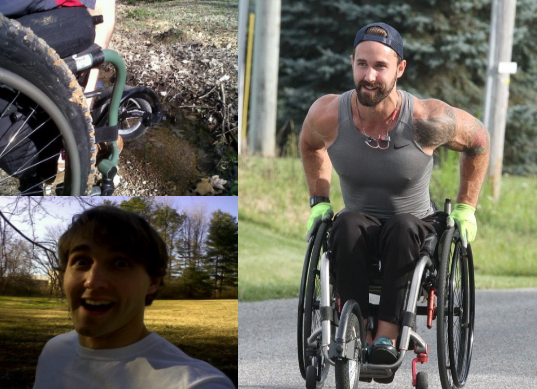 Blake Perkins (paraplegia) – I learned of the FreeWheel wheelchair attachment early during the technology trial and error process after my injury. Far too much money was wasted during this process, but the FreeWheel was certainly the exception. I venture to say it was one of the best out-of-pocket investments I made post-injury. The two photographs on the left are of me using the FreeWheel for the first time around 7 months after my injury (circa February 2012).
The photograph on the right is me using the same FreeWheel now over 10 years later. Returning to independent outdoor off-road activities, one of my favorite hobbies pre-SCI, was incredibly liberating. Its simple mechanical design attaches to the footplate and lifts the front wheels/casters to eliminate the risk of faceplanting or falling forward when encountering an unexpected bump. Simple, effective, durable, and, well, freeing! 
If you have a Freewheel, let us know where you have used it! Email us at norscis@gmail.com or connect with us on Instagram @norscis.